Prime Minister Narendra Modi's 'Aatmanirbhar Bharat' dream can be considered as hard-bound or challenging, but startups have since then taken up the cause and are focusing on in-grown solutions to create a self-reliant India. To remind our readers, in February 2021, Defence Minister Mr. Rajnath Singh said that attaining self-reliance in the manufacturing of defence equipment was important to maintain India's strategic autonomy. While addressing the audience at an industry event, he revealed that the government aimed to bring down defence imports by at least $2 billion by 2022.
That said, Mumbai-based ideaForge is a popular name in the defence and surveillance space. Recently, the company signed three major contracts with the Indian Army to provide them with perfect 'eye in the sky' systems. But the journey was not so easy for ideaForge as it was pitted not only against the Indian UAV companies, but the Russians, French, Israel, Ukrainians and others.
It all began in 2021 when the Indian Army signed a $20 million contract for a high-altitude variant of ideaForge's SWITCH UAV. It is an indigenous system built to cater to the most demanding surveillance operations of the Indian Forces. This Fixed Wing VTOL (Vertical Take-off and Landing) UAV can be deployed at high altitude and harsh environments for day and night surveillance in intelligence, surveillance and reconnaissance (ISR) missions. It is man-portable and has the highest time-on-target compared to any other UAV in its class. What's more, in 2022, the Indian Army again partnered with ideaForge to supply additional SWITCH UAVs to enhance the country's surveillance capabilities along its border with China. The repeat order is a clear testament of the company's capabilities in designing and manufacturing drones, exhibited not only during product trials but also in the operational environment.
In the Union Budget of 2022, the Indian Government announced that 68% of its Defence Capital Procurement budget would be reserved for domestic organisations. Within a month of this announcement, the largest single VTOL Mini UAV contract globally has been awarded to ideaForge for its SWITCH UAV. As a part of this contract, ideaForge shall deliver 200 systems consisting of a few UAVs each to augment the Indian Army's Surveillance capabilities. This contract for Mini VTOL UAVs is the result of a five-year-long intensive procurement procedure.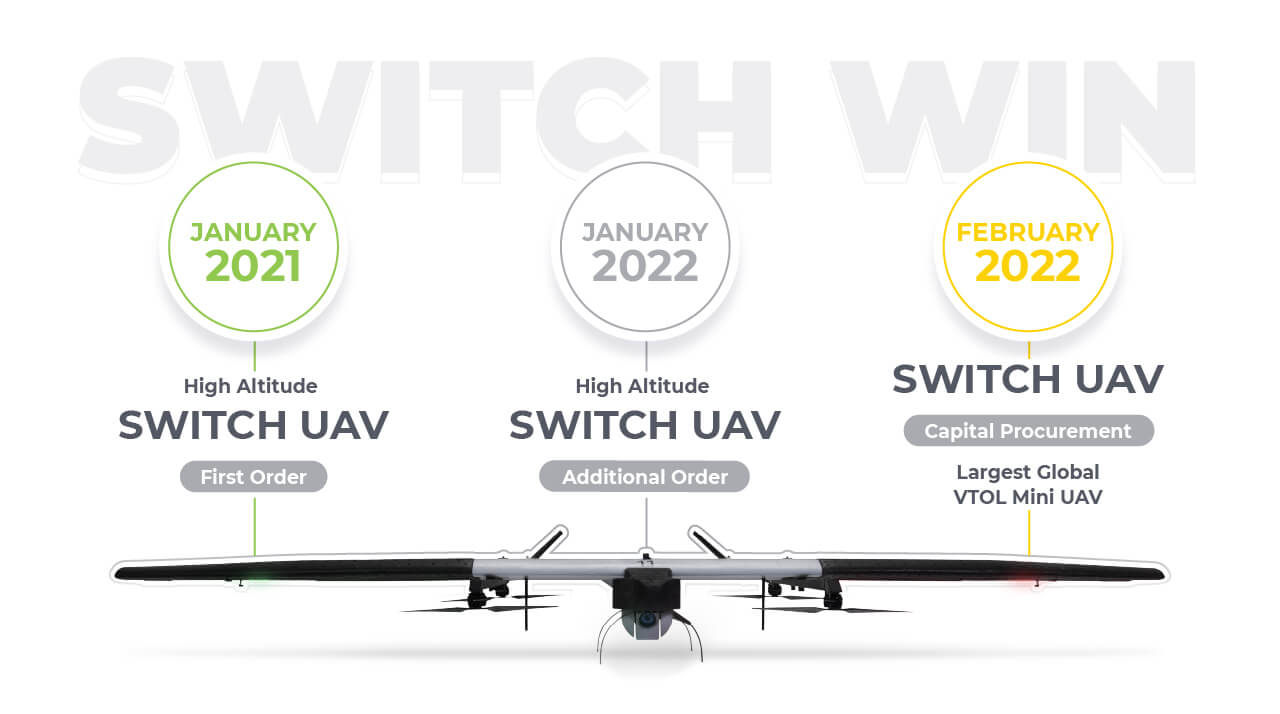 The traditional understanding was that a Fixed Wing UAV would be the ideal solution for last mile deployments. On analysing the actual operational constraints that the Army faced, ideaForge realized that a Hybrid Vertical Take-Off and Landing (VTOL) platform which can take off without a runway or by hand launching, would be the ideal solution. ideaForge implemented VTOL design keeping in mind the operational constraints of the customer. Meanwhile, during the selection process, some of the competitors were unable to meet the required landing requirements. Throughout the process, the ideaForge team has demonstrated exceptional technical skills and dedication. The team has ensured that the army receives continuous support in all aspects and requirements. They went above and beyond to test the product in every terrain and season, ensuring the highest quality to achieve the results.
With a recorded weight of 6.5 kilograms, the SWITCH features two main wings and two tail booms with stabilisers. It uses multiple global positioning system sensors to provide more reliability and fail-safe redundancy in case of signal loss. The aircraft's built-in failsafe feature allows it to safely return to the ground control station even in strong wind conditions or with a low battery charge. The drone's maximum flight time is reportedly over two hours.
In addition to surveillance, the aircraft can perform various tasks such as security, anti-terror, border security, counterinsurgency, crime control, inspection, crowd monitoring, forest fire, and disaster management operations.
SWITCH UAV is the only product that cleared the Indian Army's stringent product trials and surpassed expectations. It is a testimony of the fact that ideaForge's systems are built like a bird and tested like a tank.