DGCA announces India's drone policy. We decode it for you.
India's Director General of Civil Aviation (DGCA) has released the long awaited drone policy for their operation by Civilians and Indian companies. We have received a lot of questions from our customers regarding continued operation of their Unmanned Aerial Vehicles (UAVs)/drones now that the policy is officially announced.
One important thing to note is that the regulations discussed in this article are applicable for all consumer drones, including toys and prototypes, and also to all drones used by Homeland Security and Civil industries. These regulations do not apply to the Ministry of Defence, and therefore all drones for defence and military purposes fall outside their purview.
The drone policy can simply be distilled by one very simple specification – the weight of the Drone being flown. Based on the weight of the Drone you own, the flying permissions you need to procure will be different.
Before we dive deeper into the weight categories, let's talk about common permission for all civil drones in India. The manufacturer or importer of a drone needs to make sure that the product's communication frequency (which is usually the same frequency used by a home's WiFi) has received a clearance to operate from the Department of Telecom's (DoT's) Wireless Planning Commission (WPC), referred to as an Equipment Type Approval (ETA). While you as an operator do not have to approach the WPC to get a clearance, the manufacturer of your drone has to.
If your drone does not have an ETA, send in a request to the manufacturer of your drone, as this is going to stop any legal flying you are going to do, regardless of which category your drone falls under.
There are four major licenses that you would need to acquire in order to operate drones in India; the UIN (Unique Identification Number), the UAOP (Unmanned Aircraft Operating Permit), the OAN (Ownership Acknowledgment Number), and the DAN (Drone Identification Number). We'll discuss these one by one, and in the order that they were enacted by the DGCA.
For the categorisation, the DGCA breaks down the different categories based on their total weight (including cameras and all sensors) as follows:
Nano – weighing less than or equal to 250 grams
Micro – weighing greater than 250 grams, but less than or equal to 2 Kilograms
Small – weighing greater than 2 Kilograms, but less than or equal to 25 Kilograms
Medium – weighing greater than 25 Kilograms, but less than or equal to 150 Kilograms
Large – weighing greater than 150 Kilograms
If your drone is in the Nano category, you can fly unrestricted below 15 meters. This category is exempt from procuring both a Unique Identification Number (similar to a license plate on a car) and an Unmanned Aircraft Operating Permit (similar to a driver's license).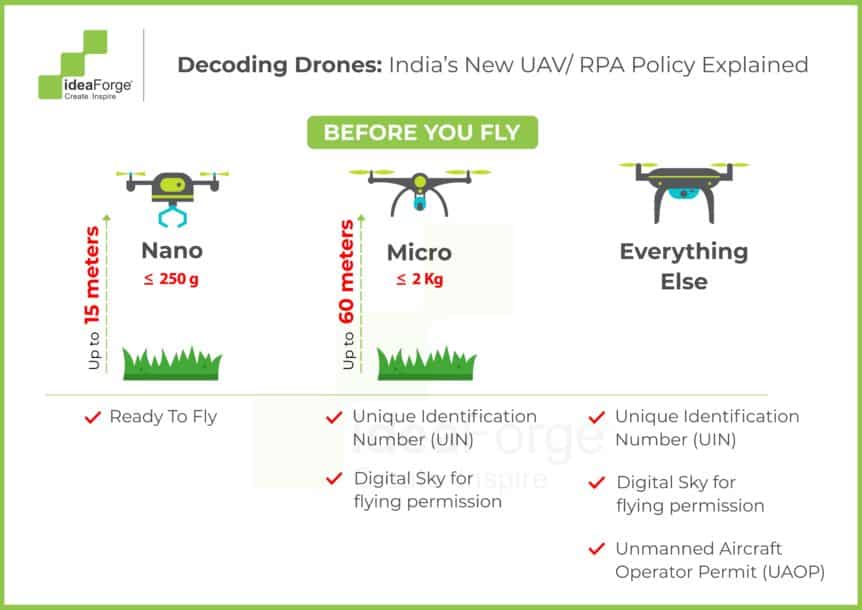 The permissions required start to scale up past this weight limit.
If your drone falls under the Micro category and you intend to fly below 60 meters, you will need to procure a Unique Identification Number (UIN) for your drone. For this, you will need to file an application (which costs ₹1000) with the DGCA. For this application, you will need to make sure you have the following:
Specification sheet, User Manuals, Maintenance Guidelines, Weight & Maximum Capacity of UAV, etc
Equipment Type Approval (ETA) from the Wireless Planning Commission
A Security Clearance from the Ministry of Home Affairs
Once your drone receives the UIN, you need to mount this on a fire-resistant plate on your drone, similar to a car's license plate.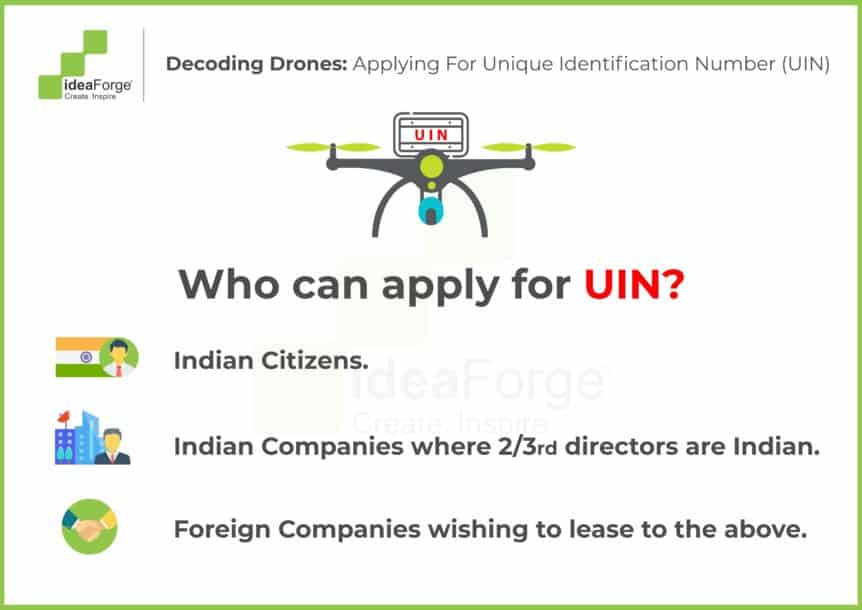 For drones in the Small categories and up, in addition to getting a Unique Identification Number, you will also need to procure a Unmanned Aircraft Operator Permit (UAOP), which is basically a pilot's license.
To apply for a UAOP, you will need:
UIN Number of the drone
Details of training records (With ground training done from a DGCA approved Flight training school)
Security programme from Bureau of Civil Aviation Security (BCAS)
Permission of Landowner for Takeoff & Landing
Insurance Details (If applicable)
Standard Operating Procedures (If you are unsure of this, approach the manufacturer of your product for assistance).
Details of fees paid
For a while these licenses were sufficient for maintaining order in Indian airspace. But as drones became more and more accessible, there were a lot more drones in the air than the DGCA had anticipated. Seeing as there were several people that were not in compliance with these regulations, the Director General of Civil Aviation (DGCA) called for a voluntary disclosure of non-compliant drones flying in India. The submission of this information was to be done through an online portal. First, the drone owner must submit their own information based on which they will be issued an Ownership Acknowledgment Number (OAN) which enables him or her to own drones. Then, they must submit their drone's information which will enable them to get a Drone Acknowledgment Number (DAN), which legitimizes the ownership of a particular drone by that person.
The deadline for registration to obtain an OAN and DAN was 31st January, 2020, and the DGCA clarified that all unmanned aircrafts need to be registered, be they models, toys, prototypes etc.
Even if a person does not have a UAOP or a UIN for their drones, they may apply for the OAN and DAN. However, possession of the OAN and DAN alone does not confer the right to operate the drone in India. For operations, the UIN and UAOP remain mandatory.
Ownership of a drone in India without a valid OAN and DAN shall be met with penal action as per applicable laws, as is operation of a drone without a UAOP and UIN.
Now that we've covered the licenses for you and your drone, let's move on to the permissins required for flying.
To ensure the safe and legal operation of your drone, the DGCA has the following guidelines:
Always fly during the day & within visual range of your drone
Make sure there is ample visibility (5km) and a cloud ceiling of at least 400m
Make sure other weather conditions permit the drone to fly based on the manufacturer's specifications and restrictions (such as rain, temperature, wind speed etc).
Inform the local police authorities of your flight
Make sure you have your communication radio ready to talk to the closest Air Traffic Control (ATC) and follow the appropriate communication guidelines you have learnt during your training (Small & above)
Make sure you aren't flying near any restricted areas such as Airports or National Parks (For further information on what areas are restricted for flying, refer to the policy document If you still wish to fly in these locations, the DGCA can approve your flight on a case-by-case basis)
Ensure you have(Nano drones flying below 15 meters and micro drones flying below 60 meters are exempt from this):
Briefing from Air traffic Control
Briefing from MET (Meteorological department of India)
Clearance from nearest ATC
Air Defence Clearance from nearest Indian Air Force Unit
FIC number from Flight Information Center
Once you have completed the above, get a permission slip for the flight from the Digital Sky Platform*. Once the slip has been received, the Drone's autopilot should now be active and ready to perform the flight.
Recently however, a much more strict regulation has also been added to these existing guidelines known as the NPNT (No Permission, No Take-off). The 'NPNT' is a software, where all drone pilots must create their account and share their own details as well as their drones' details. It then checks whether an RPA (Remotely Piloted Aircraft) and its pilot have the required permissions to operate in Indian airspace as per the Ministry of Civil Aviation, and accordingly authorises each flight. These permissions of course include checking whether all relevant licenses are in order or not, but also checks the envelope of airspace that the pilot intends to conduct their flights in.
Airspace in India is divided into Green, Yellow, and Red zones; Green zones signify unrestricted airspaces, Yellow zones require Air Defence Clearance or Air Traffic Control clearance, and Red zones are restricted airspaces. These are around facilities like airports, military areas, international borders etc. and if mid-flight, a drone is flown into or too close to a Red Zone, then the NPNT software will compel the drone to return-to-home (RTH). So many licenses and regulations may seem stifling for drone flight in the country, but in a country as vast as ours, these measures are necessary right now to maintain security and peace.
However, in light of the COVID-19 pandemic, the DGCA recognizes that there are several ways in which drones can be utilized in these times. So to facilitate these operations, they have introduced the GARUD Program, which is basically a conditional exemption for Government entities to bypass some of the several regulations in place. This is provided in order to fast-track the use of drones and their introduction in the work-forces, in order to combat the coronavirus, and not waste any time in acquiring different licenses and ensuring that all guidelines are met completely. There are several conditions that the GARUD Program entails, and you can read about them in detail on the Ministry of Civil Aviation website.
The drone industry is an exciting one with a myriad of applications in the Civil domain. With the policy finally in place, we can now look forward to safe and legal operations.
For any further clarifications, write to us at info@ideaforge.co.in
Happy flying, finally!
* The Digital Sky Platform was rolled out by the DGCA in December 2018