Ports are essential. They enable not just trade but also economies and progress. It is important to ensure total port security to sustain these economies, along with overall national safety. ideaForge drones, for port security, are the ideal and all-encompassing way ahead for this. In this piece, we will show how these drones are perfect for port security.
Importance of Ports: National and Global economies
Global maritime movement accounts for 90% of all international trade. In India, it accounts for 95% of the trading by volume and 70% by value. Major ports in India channelled cargo traffic of 704.82 Million Tonnes (MT) in 2019-2020 at a CAGR of 2.74% (from 2016-2020).
The importance of such ports goes beyond their astronomical numbers. Port-enabled shipping and logistics support a multitude of industries and millions of livelihoods. Operationally efficient maritime trade helps secure the present and future of an entire nation.
Port security 'needs' to be handled with the utmost care, foresight and, even a bit of omniscience. Drones can offer the ideal tech-enablement to do just this. However, let us look at some of the challenges connected to port security before we move to the drone-solution.
Port Security Challenges: Blind spots and Bottlenecks
Before drones, authorities handled port security largely through manual surveillance (patrolling), strategic location surveillance with Closed-Circuit Television (CCTV) cameras, motion detectors, scanners, etc. These elements had their inherent restrictions.
Low visual surveillance reach
Stationary (CCTV and sensors) placement with restricted field-of-view
Multiple blind spots with no surveillance or irregular patrolling
Ports are different from most strategic security zones. Their amphibious nature requires dynamic, adaptive and responsive security options.
Drones for Port Security: Added Multiplier Effect
ideaForge drones have been consistently and successfully enabling security and surveillance details for multiple national homeland and defence operations. They have been at the forefront of creating timely and action-ready situational awareness. These drones have been pivotal in securing national borders and sovereignty.
Ports security has the added dynamism of covering a large shoreline along with an extensive land area. The dock area doubles as a major logistics hub with multiple trucks and trailers lining up for loading and unloading. Port authorities need to track and control all cargo movement carefully. Furthermore, on-shore or berthing vessels require vigilant surveillance.
Drone-enabled port security and surveillance helps the authorities with all these challenges and more.
All-encompassing drone-led port security and surveillance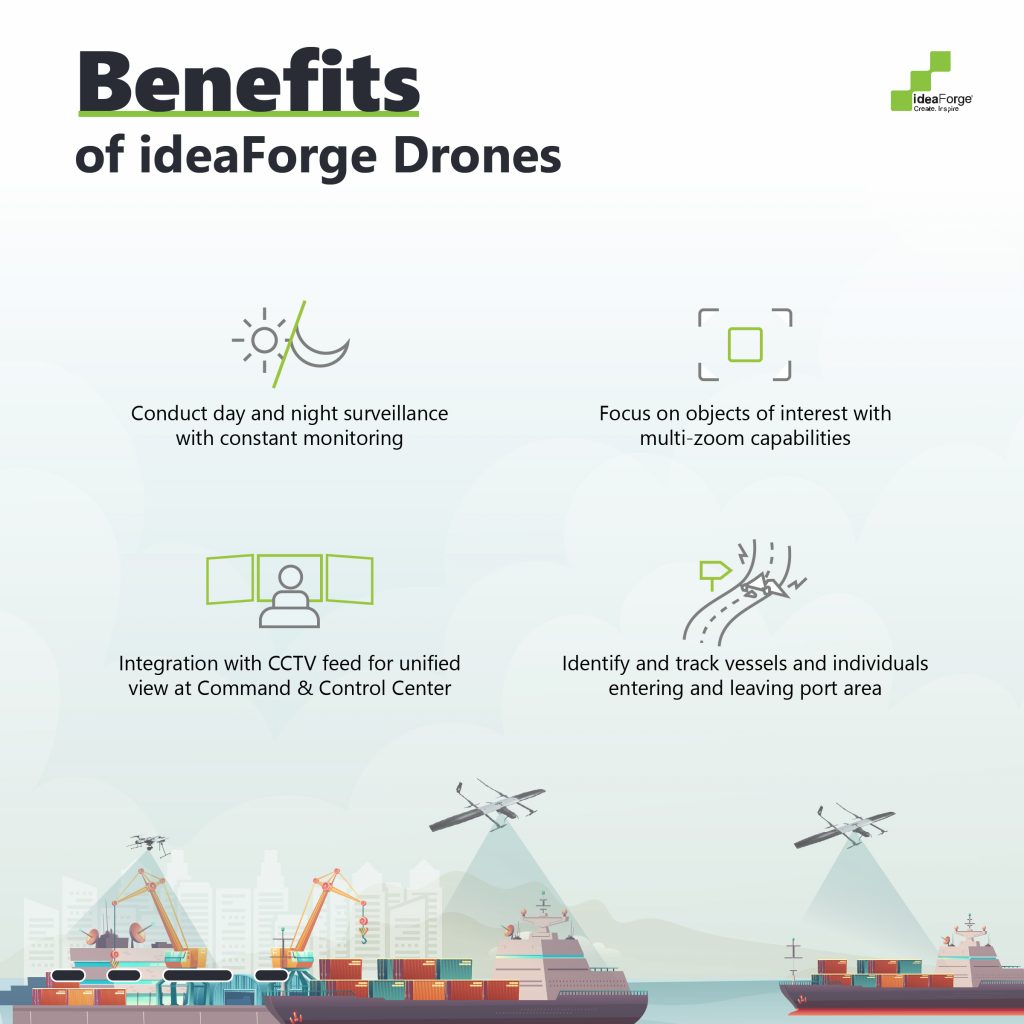 Day-night surveillance
Ports have round-the-clock operations with constant vessel navigation, berthing, loading and unloading. This requires high operational interlinkages and multi-modal efficiencies. Drones help survey complete port areas, piers, terminals and shorelines.
They offer 24×7 live high-resolution and uninterrupted surveillance of, potentially, each metre of water and land space. ideaForge drones are versatile with industry-leading endurance. Through their dual payloads, these drones can give detailed visual and thermal imaging of every operation, all on-shore navigation, and each docking.
Multi-zoom capability
ideaForge drones increase the total area under surveillance by 16x while increasing the visual surveillance reach by 25x. However, just having a greater (aerial) visual and thermal (imaging) reach is not enough.
These drones are multi-zoom capable. Authorities can zoom-in on to suspicious objects along the docks or in the waters, viewing the object's fine and clear details. It gives metre/centimetre level visual accuracy.
The multi-zoom capable drones add an extra dimension to port security. The drones can easily pick-up even small buoys, fishing boats, objects, even people along the shoreline. It can impeccably monitor ground and sea traffic while giving emergency response and situational awareness a booster.
Unified security feed – BlueFire Live!
Before ideaForge, the surveillance information available to the port authorities was disparate, spread out across CCTV feeds, sensor readings, and patrol feedback. ideaForge's drones added a 360-degree aerial view that unclogged most security bottlenecks and eliminated all surveillance blind spots.
Here, the next aspect was to compose, seamlessly, all different feeds (from CCTV, sensors and drones) into one overarching and secure surveillance control station. ideaForge's BlueFire Live! settled this. It compiled all live surveillance information from different sources into one unified and dynamic port security system.
BlueFire Live! tech (application) is completely mobile. Operators could check on their surveillance's encrypted feed from their tabs and smartphones. They could even control the drone's payload camera angle (live, as it's in the air) from the app. It gave holistic visibility and control to the port authorities.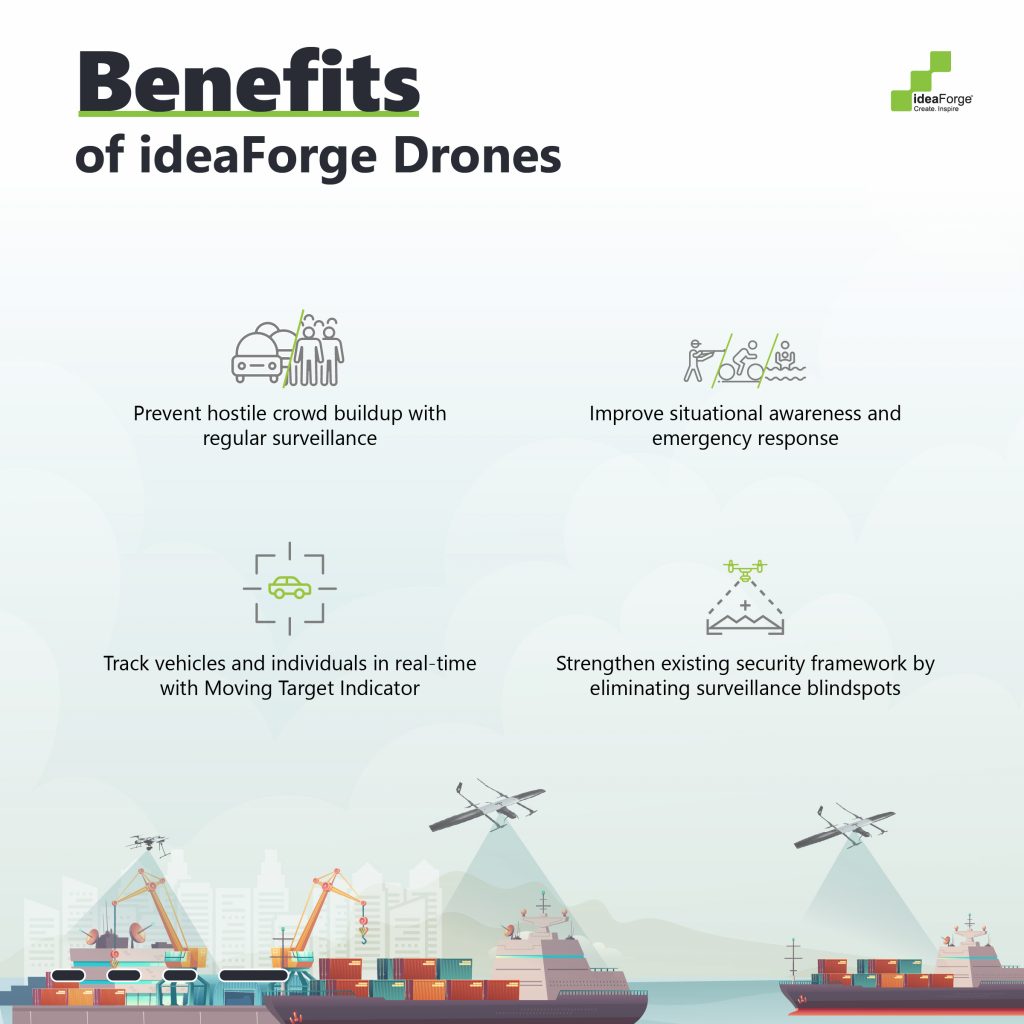 Live (moving) target tracking
Drones offered superior target tracking, even when it was in motion, day or night. This helped the authorities to not just spot irregularities and anomalies like theft, trespassing, illegal fishing, etc. but also track their live movement. Live motion tracking gave the authorities enough situational awareness to resolve the issue, successfully. Speaking of situational awareness…
Eliminate surveillance blind spots
ideaForge drones fill up all surveillance blind spots left unchecked by a previously archaic system. We saw above how these drones improve the visual surveillance reach and the total area under surveillance, multi-fold. The drones do all this in around 1/6th of the time.
ideaForge drones are built to stringent military standards subject to high endurance, durability and manageability. They fly faster, better and further than others in their class do. This means that the drones cover more area per flight. They are vertical take-off and landing (VTOL) capable. The operators can also carry them around in a simple bag and deploy them, even from small areas.
This is the versatility aspect. The application aspect includes drone-led automation. Port authorities can ensure regular surveillance of all sensitive and previously unchecked areas using automated waypoints within the drones. The operators can deploy drones from any place. The drones will follow their automated path giving a complete and detailed view of everything in that area.
Situational awareness and emergency response
Drones helped the port authorities with live situational awareness and improved their emergency response. We know that port security is an important and sensitive endeavour. It deals with highly intricate and centralized trade hubs. It also helps secure coastal borders of the nation against illegal activities, illicit smuggling or transgressing terrorists.
Drones give that extra-edge to port and national security. It offers highly actionable insights about suspect shore movement or illicit on-ground activities. Furthermore, the drone acts as a first-responder while the related coast guard (and other law and order) subsequently intervene.
Drone-led day-night surveillance even helps with Search and Rescue (SAR) operations along the shoreline. It can easily spot a person in need of immediate help and direct the required authorities to the spot for a speedy rescue. The first-hand situation awareness (drone-enabled) ensures that the rescue teams know exactly what to do and what equipment to carry 'before' they reach the spot.
Outlook: Drones for Port Security
India is pushing for modernization along ports for higher efficiency and greater safety. The Sagarmala project has already slated $123 billion investments across 415 different maritime projects.
Drones have proved themselves a key enabler and multiplier for port operations and port security. They are the ideal catalyst and control point to ensure that these investments maximize existing and new port security/efficiencies, coastal community development, related industrial improvements and overall economic boosts.